You can download and play our jam entry 'The Crystal Curse' (we know the name's bad!) here. Remember – it needs a Vive, 3-4 people and at least 3m x 3m to play in!
A few weeks ago, Luke and I teamed up with Sublevel Zero composer, Will Bedford, to enter local game jam event, Jamchester. The aim was to bring together professional developers and students to make games and compete for some awesome prizes. There were a variety of sponsors at the event, including Unreal Engine, Microsoft, VisrVR and many more I've probably forgotten to mention. They did a pretty good job of keeping us all fed and watered.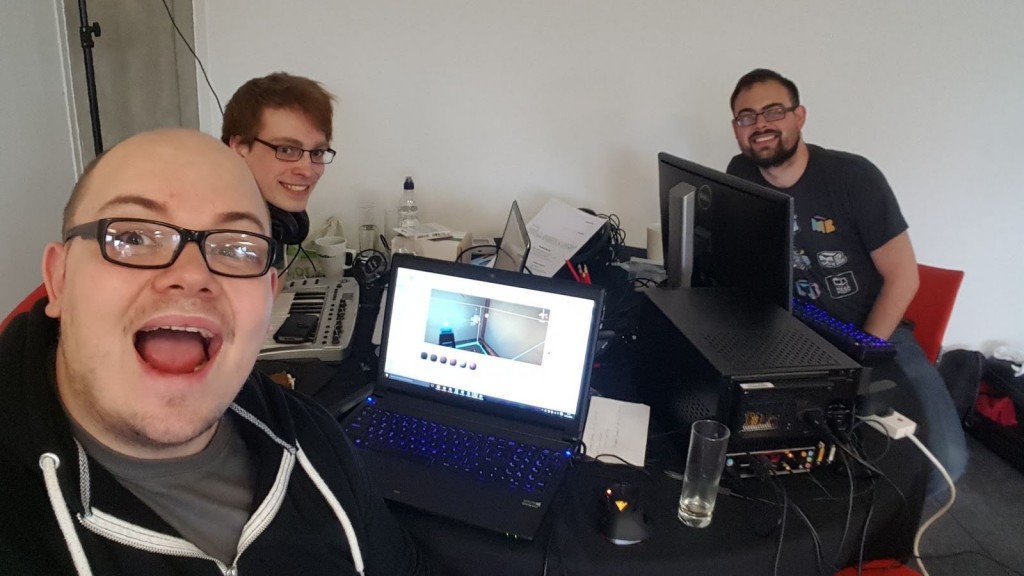 After packing up and moving nearly our entire office to the venue, including a complete HTC Vive setup[1]plus our Rift, just in case, desktop computer and much more, we set up and eagerly awaited the jam theme.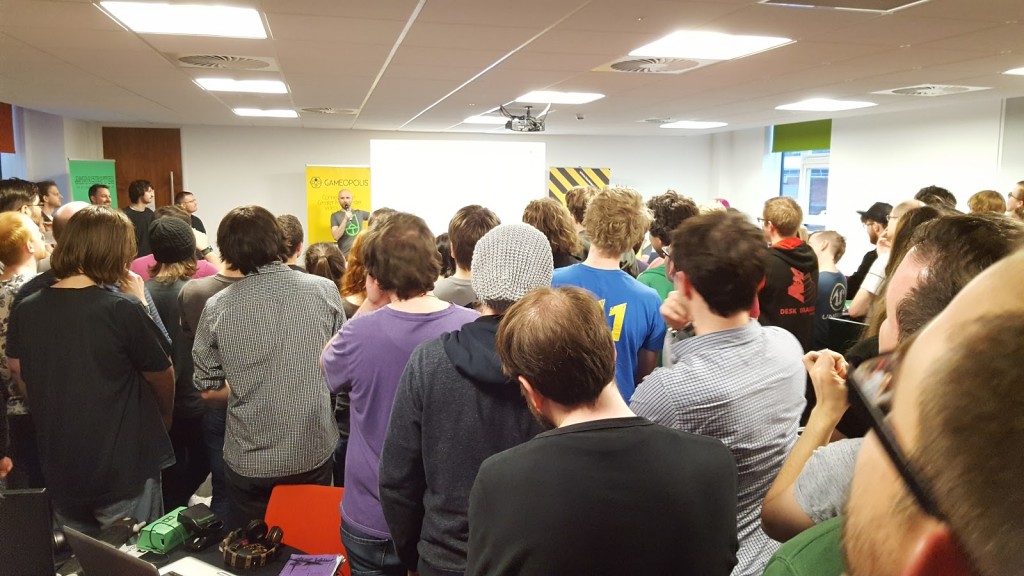 Following the opening ceremony, the jam theme was revealed as:
'You've Already Won'
We wanted to create a social VR experience that involved lots of people, focusing on communication between the user in VR and their team watching on a second screen. It was important to present both the VR and non-VR players with information they had to tell each other in order to succeed. Big inspirations came from classic game shows such as The Crystal Maze and Knightmare. Couple that with time limits and a constant fear of falling into a spike pit and things started to get interesting…[2]Rumour has it that we also watched an episode of Dale's Supermarket Sweep to get us EXTRA pumped.
Echoing the iconic scene from Indiana Jones ROTLA, the player starts in a room with the prize right in front of them. They simply have to wander over and pick it up. Upon doing so, a cryptic message appears and the player must escape with their prize! Tracking player movement with precision was initially a bit of an issue as we couldn't just use the head position – if we did, people would plunge to their dooms just by looking over the edge of a precipice. We overcame this by using a Vive controller to track the players center of mass by putting it into a belt. Unconventional, but it worked well!
This is where it starts to get really fun. We created four different puzzle rooms in total, each with their own unique requirements and combinations of hazards. One great example puts the player on a grid of tiles. The VR player is able to see five colours in front of them on a plaque. The team watching can see a top-down view of the room, complete with an overlay of coloured tiles and pitfalls. The team have to work out that the VR player has to tell the others what colours they see in order, while the team guides the player to each individual tile.
Of course, we didn't TELL people what they had to do, but there were some moments we had to step in and temporarily channel our inner Richard O'Brien.
Also, did we mention that if you fail, you fall into a spike pit and die?
After 40 hours of development (we managed to get SOME sleep), lots of people played the game and loved it! We were visited by the judging panel, who proceeded to do what they do best, and we all gathered together again to await our fates.
Long story short: we won the 'Best Windows VR Game' category!
Overall, it was a fantastic experience and personally I felt like I learned a lot. It felt good to work on a completely new concept and have some solid timescales in mind so we could work on managing the scope of the project.
You can also check out all the other brilliant Jamchester entries here.
-Gary
| | | |
| --- | --- | --- |
| 1. | ↑ | plus our Rift, just in case |
| 2. | ↑ | Rumour has it that we also watched an episode of Dale's Supermarket Sweep to get us EXTRA pumped. |